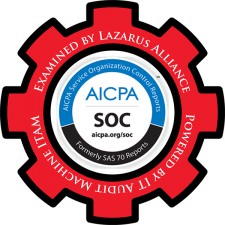 Aargon Agency has retained Lazarus Alliance again for an AT-101 SOC 2 Type 2 audit and security testing.
SCOTTSDALE, Ariz., September 26, 2019 (Newswire.com) - Lazarus Alliance, a top-rated cyber security, governance, risk, and compliance (GRC) firm, today announces its support of Aargon Agency, Inc., a national leader in debt recovery. Lazarus Alliance will perform an independent AT-101 Service Organization Control 2 (SOC 2) Type 2 audit and conduct penetration testing and vulnerability scanning.
Part of the American Institute of Certified Public Accountants (AICPA) SOC reporting framework, the SOC 2 utilizes the AT-101 professional standard. It was developed for technology service providers that store customer data in the cloud and assesses the extent to which a company complies with one or more of the AICPA Trust Principles based on the systems and processes the company has in place.
"As cloud service providers store, process, and transmit sensitive information belonging to their clients, they are increasingly under attack by cyber criminals," said Michael Peters, CEO of Lazarus Alliance. "Releasing an SOC 2 attestation gives service providers a clear competitive advantage by demonstrating that they have comprehensive, time-tested, proven internal security controls in line with the AICPA Trust Principles."
In addition to the SOC 2 attestation, Lazarus Alliance will also perform penetration testing and vulnerability scanning for Aargon Agency. To perform both the audit and the security testing, Lazarus Alliance is utilizing the Continuum GRC IT Audit Machine (ITAM), a GRC automation solution that integrates governance, risk assessment, and compliance processes.
"SOC 2 audits are highly complex. Using traditional processes, such as spreadsheets, makes the audit take much longer and costs the client more money," Peters explained. "By using ITAM to automate the audit process, we're able to get in and out more quickly, saving them money and letting them get back to their day-to-day business much faster."
Source: Lazarus Alliance
Share: