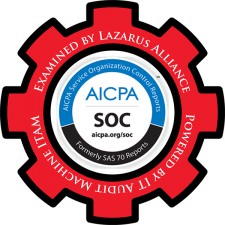 GPS Insight has retained Lazarus Alliance for its annual AT-101 SOC 2 reexamination audit
SCOTTSDALE, Ariz., September 11, 2019 (Newswire.com) - ​​Lazarus Alliance, a leading cyber security, governance, risk, and compliance (GRC) firm, today announces its support of GPS Insight, a leading provider of vehicle fleet management SaaS solutions for government agencies and private-sector enterprises. Lazarus Alliance will perform an independent SOC 2 reexamination audit.
The SOC 2, which is part of the American Institute of Certified Public Accountants (AICPA) SOC reporting framework, utilizes the AT-101 professional standard. The SOC 2 was developed so that technology service providers, such as SaaS developers and other cloud service providers, could document that they adhere to comprehensive data security control procedures and practices. SOC 2 audits are voluntary. Companies choose to undergo them to assure their clients that they have implemented specific controls to effectively mitigate operational and compliance risks and provide consistent, reliable, and secure services.
"With cloud breaches reaching epidemic levels, and many of them originating with third-party cloud service vendors, a growing number of organizations are now requiring that their cloud vendors release SOC 2 attestations to demonstrate that they adhere to rigorous standards for security, availability, processing integrity, confidentiality, and privacy," said Michael Peters, CEO of Lazarus Alliance. "An SOC 2 attestation allows GPS Insights' clients to use their software solutions with confidence, knowing that their sensitive data is secured."
Lazarus Alliance utilizes Continuum GRC's IT Audit Machine (ITAM), a GRC software solution that automates governance, risk, and compliance processes, to perform SOC 2 audits, assess vulnerabilities, and evaluate security policies and controls.
"Because SOC 2 examinations must be performed at least annually, if the reporting process isn't automated, the audits are costly and time-consuming, and they interrupt the organization's normal operations," Peters noted. "ITAM significantly speeds up the process, getting our clients from start to compliant quickly, saving them money and getting us out of their way as soon as possible. Our clients also enjoy uninterrupted access to ITAM between audits, which makes it easier for them to maintain compliance year-round."
About GPS Insight
GPS Insight helps customers engage their fleet by delivering innovative solutions and actionable insights. Organizations across North America turn to GPS Insight when they have high fleet operating costs, are worried about driver safety on the roads, and have inefficiencies that waste valuable time and money. GPS Insight offers all-encompassing fleet software for organizations with fleets of vehicles, trailers, and other mobile assets. GPS Insight provides vehicle and asset tracking, in-cab cameras, ELD, fuel cards, and much more. www.gpsinsight.com
Source: Lazarus Alliance
Share: