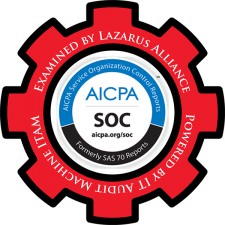 MarkLogic Corporation has retained Lazarus Alliance for an AT-101 SOC 2 Type 2 audit, cybersecurity policy development, penetration testing, and vulnerability scanning.
SCOTTSDALE, Ariz., July 23, 2019 (Newswire.com) - ​Lazarus Alliance, a top-rated cybersecurity, governance, risk and compliance (GRC) firm, today announces its support of MarkLogic Corporation, the next-generation data platform provider for simplifying data integration. Lazarus Alliance performed an independent AT-101 Service Organization Control 2 (SOC 2) Type II audit, to ensure MarkLogic's fully automated cloud service, Data Hub Service, had the proper proactive cybersecurity policies and conducted penetration testing and vulnerability scanning.​
Part of the American Institute of Certified Public Accountants (AICPA) SOC reporting framework, the SOC 2 utilizes the AT-101 professional standard. It was specifically designed for technology service providers that store customer data in the cloud and assess the extent to which a service provider complies with one or more of the AICPA Trust Principles based on the systems and processes the provider has in place. MarkLogic's SOC 2 attestation covers all five AICPA Trust Principles: Security, Privacy, Availability, Confidentiality and Integrity.
"While SOC 2 attestations are not mandated by law, undergoing an SOC 2 audit is a clear competitive differentiator for cloud service providers, especially in an increasingly dangerous cyber-threat environment," said Michael Peters, CEO of Lazarus Alliance. "Releasing an SOC 2 attestation demonstrates that the provider has comprehensive, time-tested, proven internal controls in line with the AICPA Trust Principles."
To perform this work, Lazarus Alliance used the Continuum GRC IT Audit Machine (ITAM), a GRC automation solution that integrates governance, risk and compliance processes.
"The Continuum GRC ITAM tool used by Lazarus Alliance, with its built-in guidance, makes it easier to enter information required for certifications," said Tom Thomassen, Senior Staff Engineer, Security at MarkLogic.
"When using manual processes like spreadsheets, SOC 2 audits take an extraordinary amount of time and manpower to complete. It also makes it very difficult to maintain compliance between audits," Peters explained. "ITAM automates the audit process, saving the organization a lot of time and money. Additionally, its self-help modules simplify the process of maintaining compliance between audits."
About Lazarus Alliance
Lazarus Alliance is the Cybervisor® that helps private and public sector organizations deter threats, eliminate gaps and proactively manage risk. By providing independent, customized services and solutions that span the cybersecurity lifecycle (Audit and Compliance, Risk Assessment and Management, Policies and Governance, Vulnerability and Penetration Testing, Cybervisor® Consulting Services and Awareness and Training), Lazarus Alliance helps its global clientele develop scalable programs that improve their security posture, achieve their business objectives and fuel their continued success. For more information, visit https://lazarusalliance.com.
About MarkLogic
​Data integration is one of the most complex IT challenges, and our mission is to simplify it. The MarkLogic® Data Hub is a highly differentiated data platform that eliminates friction at every step of the data integration process, enabling organizations to achieve a 360 view faster than ever. By simplifying data integration, MarkLogic helps organizations gain agility, lower IT costs and safely share their data.
Organizations around the world trust MarkLogic to handle their mission-critical data, including six of the top 10 banks, five of the top 10 pharmaceutical companies, six of the top 10 publishers, nine of the 15 major U.S. government agencies, and many more. Headquartered in Silicon Valley, MarkLogic has offices throughout the U.S., Europe, Asia, and Australia. For more information, visit www.marklogic.com.
MarkLogic is a trademark or registered trademark of MarkLogic Corporation in the United States and other countries.
Source: Lazarus Alliance
Share: