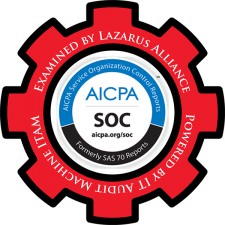 Vervantis Inc. has retained Lazarus Alliance for a SOC 2 Type 2 audit and security testing.
SCOTTSDALE, Ariz., July 2, 2020 (Newswire.com) - Lazarus Alliance, a top-rated cybersecurity, governance, risk and compliance (GRC) firm, today announces its support of Vervantis Inc., energy, sustainability, and utility bill management specialist. Lazarus Alliance performed an independent AT-101 Service Organization Control 2 (SOC 2) Type II audit, to ensure Vervantis's secure Energy Management and Utility Bill Pay Solutions had the proper proactive cybersecurity policies and conducted penetration testing and vulnerability scanning.
Part of the American Institute of Certified Public Accountants (AICPA) SOC reporting framework, the SOC 2 utilizes the AT-101 professional standard. It was developed for technology service providers that store customer data in the cloud and assess the extent to which a company complies with one or more of the AICPA Trust Principles based on the systems and processes the company has in place.
"The successful completion of its SOC 2 reexamination audit proves that Vervantis consistently adheres to rigorous standards for security, availability, processing integrity, confidentiality, and privacy," said Michael Peters, CEO of Lazarus Alliance. "Systems that process and store energy management information are mission-critical. They are also magnets for hackers. A SOC 2 attestation allows Vervantis's clients to use the company's products with confidence, knowing that the solution is reliable and that it keeps data safe."
"The Continuum GRC ITAM tool used by Lazarus Alliance, with its built-in guidance, makes it easier to enter the information required for certifications and streamlines the entire process," said John Warrick, VP Operations of Vervantis Inc.
"Companies dread SOC 2 audits because they're so long and tedious; they say it feels like the auditors have moved into their offices. If the auditor is still using spreadsheets and other manual processes, that's typical," Peters explained. "Using Continuum GRC's IT Audit Machine, we can speed up the audit process by as much as 180%. The client saves a lot of money, and they're able to get us out of their office and get back to running their business much faster."
Source: Lazarus Alliance
Share: